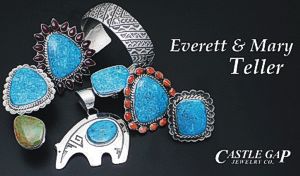 Everett and Mary Teller collaborate as a successful husband and wife team creating a vast array of sterling silver and gold jewelry along with other handcrafted items. They have three children and reside in Lukachukai, Arizona.
Everett, born in 1956, was self taught and began silversmithing in 1988. Mary was taught by her mother, Margaret Bochinclonny, and began silversmithing several years earlier in 1972. Both husband and wife have received several awards for their work over the years.

The Teller's specialize overlay jewelry with Navajo basket, rug, and storm pattern designs embellished with high quality stones.