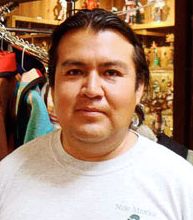 Lester Abeyta lives in the Santo Domingo Pueblo in New Mexico with his wife, Jesse, and family. Taught by his parents, Richard and Delia Abeyta, Lester is known for his traditional stone and shell jewelry. Each bead is cut, shaped, drilled and polished entirely by hand.

Jewelry making is an Abeyta family tradition passed down from the parents, Richard and Delia, to all three of their children, Harvey, Sharon and Lester. Richard began making jewelry at age 7 with his grandfather Mariano Abeyta and later attended the Institute of American Indian Arts where he studied under the renowned artist Charles Loloma (Hopi).

Lester works alongside his father and sister daily. He believes that continuing this traditional jewelry making is a way of expressing a connection to one another and to the land surrounding us.